A VERY MERRY XMAS
from Prof Bullsh*t and his Smoking Pantaloons!
Professor B. has always had an eye for the very best in fairytales and who better to present them than some of the greatest
pantomime artistes of the Commedia dell'Spin - the multi-award-winning Smoking Pantaloons!
please wait for the SMOULDERING PANTOCRATS to load - hot stuff!!
Others playing the pantaloons: Aventis Crap Science and the European Smoke and (stuff the) Environment Forum
The GM PANTOCRACY are enjoying a blaze of publicity!
WHAT THE CRITICS SAY
"No need for a yule-log with this quick-fire repartee."
- The Stage
"A right load of flaming puddings!"
- Sydney Morning Herald
"Pantomime villains aren't just for Christmas with the Smoking Pantaloons."
- Daily Mail
"I just found it, well, you know, kind of breathtaking!"
- Tony Blair
"A bravura performance despite an audience hell bent on extinguishing all reason."
- Andura Spinacek, London correspondent of AgLie'oView
"Left me in a total spin. "
- Dr Nigel Halftruth, editor Science and Public Perceptions
"We couldn't get out of the theatre fast enough!"
- Jean de Bris, Pants on Fire Brigade Quarterly

for any Jacks who like a corporate giant or two to spice up their Christmas panto
ALL SPONSORSHIP DETAILS WITHHELD
COMING SOON
Prof Sassipants Prakash in "Monsanto, Mon Amour"
Prof Tony Trewavas FRS in "Man of Letters"
Prof Vivian Moses in "100% Bought and Paid For?"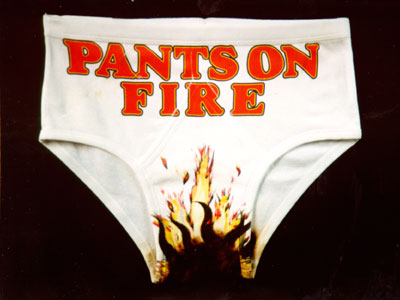 'Hot Pants!' by John 'Blowtorch' Miller
The prize is right
Tom Wakeford picks a deserving winner of the Pants on Fire award
Education Guardian
Friday July 27, 2001
I have just submitted a nomination for a special prize. It is open to academic, government or corporate scientists and has been presented every month for the last couple of years.
The Pants On Fire award is the prize offered for scientists' services to lying and deception by Professor Bullsh*t, a friendly bloke in a white coat who works in a virtual laboratory on the web.
The virtual professor lives on an award-winning website run by the Norfolk Genetic Information Network.... read on
Professor Bullsh*t
for Professor Bullsh*t's favourite quotes: click here