| | |
| --- | --- |
| | ANIMAL GENETICS |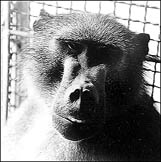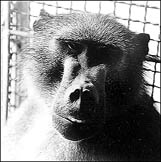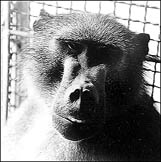 NOVARTIS-OWNED XENO LAB
QUITS UK, FOLLOWING FURORE
Horrifying details have emerged of the suffering inflicted as part of xenotransplantation experiments - research aimed at adapting animal organs for human transplant - after Uncaged Campaigns obtained leaked internal documents belonging to Imutran, owned by gene giant Novartis which is a world leader in this area of research.
The confidential documents showed the extremity of the xenotransplantation experiments which involved transplanting genetically modified pigs' hearts and kidneys into monkeys and wild-caught baboons. According to a report, the Diaries of Despair by Dan Lyons, the director of Uncaged Campaigns, thousands of pigs, 424 cynomolgus monkeys and 49 wild-caught baboons have been used in Imutran's xenotransplantation experiments
What has also emerged is the misleading nature of claims of scientific progress with xenotransplantation.
Imutran has been saying that it has been making progress in overcoming the rejection of foreign organs and since 1995 Imutran has said that is now ready to start human clinical trials [Source: The Sunday Times, August 6 2000]. The use of pig organs for transplants to humans is even poised to win UK government approval.
But according to a Daily Express article, based on the leaked documents:
"...the Daily Express found that scientific papers declaring new breakthroughs were misleading. In one paper, it is claimed that no baboons died from "hyperacute" reaction - when two excluded from the published study did.
A second study described a baboon which survived for 39 days with a life-supporting pig heart as healthy throughout. But records showed it was clearly suffering in the last days of its life. The heart had grown in weight by three times, a fact not mentioned in the published data."
Since the revelations about its xenotransplant research, Imutran has announced that it is closing its UK lab and moving its operation to America where Imutran's parent company Novartis is collaborating in its xenotransplantation research with the US-based company BioTransplant.
Although Novartis has made Uncaged Campaigns and Dan Lyons, the author of the Diaries of Despair , the subject of a High Court Injunction, preventing the dissemination of information internal to Imutran, Uncaged Campaigns see Imutran's closure as a direct response to the furore already unleashed by their report.
The UK's Home Office originally promised an investigation, after the story was revealed in the Daily Express, but in a subsequent announcement Home Secretary Jack Straw quashed the inquiry. An Early Day Motion has been tabled in the UK parliament by Liberal Democrat Animal Welfare Spokesperson Norman Baker MP, calling upon the Government to establish an independent judicial inquiry into the xenotransplantation research programme
Staggering increase in number of animals used in GM experiments
The RSPCA has called for the use of GM animals to be critically reviewed after a staggering increase in the numbers used in scientific research. Home Office statistics on animal experimentation in the UK in 1999 show a massive rise of 63,000 to 511,000 procedures involving genetic modification. The RSPCA is concerned about both the number of animals used and the harm caused to them.

---

CRUEL TRADE IN BABOONS FOR XENOTRANSPLANT EXPERIMENTS
Animal welfare group uncovers 'cruel' trade in endangered baboons
REUTERS (NAIROBI, Kenya)
October 31, 2000

Summary: A British animal welfare group said on Tuesday it had exposed a cruel and secretive trade in endangered baboons which were being sold from Tanzania to research organizations in the United States for use in xenotransplant experiments where they were transplanted with pig organs -- some of which contained human genes.

The British Union for the Abolition of Vivisection (BUAV), said hundreds of Olive Baboons were being trapped and held for weeks in appalling conditions with little, if any, food or water, and warned that the trade was posing a threat to the primates' future.

The U.N. Convention on International Trade in Endangered Species (CITES) classes Olive Baboons as potentially in danger of extinction and has strict regulations governing their trade and shipment.

No baboon had ever survived a xenotransplant experiment.

---

PIG-HUMAN HYBRID
Cloning Teams Cross Pig and Human DNA
The Sunday Times
Jonathan Leake and Nick Fielding
October 8, 2000
Australia

SCIENTISTS have successfully produced an embryonic pig-human hybrid. Human DNA was inserted into pig cells which became tiny embryos. The researchers have not revealed what happened to them, but suggest they could have been grown further by being implanted into a womb - and that either a pig or a human mother would have been suitable. The intentions of the researchers are not made clear in an application they have submitted to the European Patent Office. However, such embryos would be ideal for research into therapeutic cloning, when cells are cloned, grown into tissues such as nerve cells and then used to treat a patient.

The researchers, from Stem Cell Sciences in Australia and Biotransplant in America, both big players in the biotechnology industry, took a cell from a human foetus, extracted the nucleus and then inserted it into a pig's egg cell. Two embryos were grown to the 32-cell stage, which took a week. Experts in medical ethics are deeply concerned about the patent application, which has a strong chance of being granted. They say the research exploits loopholes in European law. It is not illegal because the embryo is not technically human. Dr Richard Nicholson, editor of the Bulletin of Medical Ethics, said: "This kind of research depends on devaluing human beings." Nobody knows whether the hybrid embryos could have be-come living beings. They would be much more human than pig because about 97% of DNA is in the nucleus, which was human. There would, however, be some effect from the 3% of DNA from the pig.

---

SHEEP WITH HUMAN GENES
Transgenic Sheep Born in Beijing
From Xinhuanet
December 24, 2000
China

BEIJING, December 24 (Xinhuanet) -- Chinese scientists have made a breakthrough in transgene fields by creating sheep with human genes, according to a press conference held in Beijing Sunday. The three sheep, two male and one female, are now living in the Shunyi county in Beijing, said scientists from the China Agricultural University. The transgenic sheep were created through the "sheep mammary bio-reactor" project, which integrated some human genes with the embryo of a sheep. The project started in 1998. Four transgenic sheep were born this June, but one female died three days later.

---

TERMINATOR CHICKS
Genetic chickens get DNA copyright tag
Biotech firm plans to create strain with extra large breasts for more meat
James Meek, science correspondent
Monday July 31, 2000
---
New super chickens fuel GM food row. From an article in the Sydney Morning Herald, August 1, 2000

A U.S. biotech company plans to genetically engineer a chicken with an extra-large breast which will yield more meat, and then insert a DNA tag to stop anyone breeding without permission. If successful, AviGenicswould be one of the first to put GM meat on US supermarket shelves, opening up new tensions with Europe over genetic engineering in food. AviGenics, based on the campus of the University of Georgia, is already one of three US companies racing to turn poultry into drugs factories - adding human genes to create "transgenic" birds, which would then produce human proteins such as insulin in their egg whites. AviGenics claims to have already created transgenic roosters that have passed on the human gene for a substance called alpha interferon, used to treat hepatitis and certain cancers. The company hopes to use the same technology to create a chicken for everyday eating.

Instead of adding human genes to make birds lay drug-rich eggs, genes would be added, or chicken genes removed, to give the birds bigger breast muscles, faster growing rates or greater disease resistance. To keep proprietorial control over these valuable new animals, AviGenics is working on a novel kind of trademark, a DNA sequence which would be introduced into the chicken's genes and handed on to the bird's offspring.

---

New study shows cancer-causing retroviruses are spread relatively easily
Cancer peril of animal organ transplants
Robin McKie, science editor
Sunday July 23, 2000 - The Observer UK News

Transplanting animal organs into humans could trigger a global pandemic of a deadly new disease. A new study by British scientists has found that cancer-causing retroviruses are spread relatively easily between different creatures in the wild. The discovery, outlined last week by the Natural Environment Research Council, will reinforce concerns raised by experiments which recently revealed that pig hearts and kidneys carry potentially deadly animal retroviruses, dashing hopes that animals could one day supply spare parts for human surgery... the study by biologists Michael Tristem and Joanne Martin of Imperial College, London, which focused on murine leukaemia viruses, close relatives of the cancer retroviruses that are known to infect pigs. Traces of virus DNA were found in a range of mammalian species in the wild, suggesting that pig retroviruses are capable of infecting other animals - including humans - with relative ease.

---

Baboon virus passed to transplant patient
Baboon virus was passed on to humans
BBC News, Thursday, September 30, 1999

A man who received a baboon liver in an operation hailed as a breakthrough contracted a virus thought to only affect the animal. This is a major setback for doctors who hope that animal to human transplantation is the answer to donor organ shortages. The man, a 35-year-old HIV patient, died from liver disease just two months after the transplant. But tests after his death revealed that a herpes virus known as cytomegalovirus (CMV) - which is present in virtually all wild baboons - had crossed the species barrier.

---
Relevant reports, briefings, articles, websites
Campaign for Responsible Transplantation
Opposes xenotransplantation
A short introduction to the range of concerns about xenotransplantation
Campaign for Responsible Transplantation
Xenotransplantation, attempted since 1905, is marred by a history of failures and intense human and animal suffering. But the prospect of commercializing the technology has created huge financial incentives for biotechnology and pharmaceutical companies who have invested hundreds of millions of dollars in xenotransplantation. The desire to gain a return on such large investments has led many companies to make exaggerated claims about the alleged merits of the technology. CRT believes that these claims are baseless and that, in fact, the technology is dangerous, expensive, inhumane, and unnecessary, and should therefore be banned.
Xenotransplantation: How Bad Science and Big Business Put the World at Risk from Viral Pandemics
ISIS Report by Prof Jo Cummins and Dr Mae-wan Ho
Xenotransplantation is a multi-billion dollar business venture built on the anticipated sale of patented techniques and organs, as well as drugs to overcome organ-rejection. It has received strong criticism and opposition from scientists warning of the risks of new viruses crossing from animal organs to human subjects and from there to infect the population at large. But regulators are adopting a permissive attitude for clinical trials to go ahead... This audit exposes the shoddy science that puts the world at risk of viral pandemics for the sake of corporate profit, and concludes that xenotranplantation shouldnot be allowed to continue in any form.
Campaigns from an animal welfare perspective:
BUAV - British Union for the Abolition of Vivisection has animal genetics reports on all the following available for download as pdf files:
Organ Transplants
Transgenic Animals
Insight into Animal Genetic Engineering
Insight into Xenotransplantation
Insight into Animal Patenting
Insight into Gene Pharming
Animal Aid has an 'A-Z' of short articles including:
Biotechnology
Gene therapy
Genetically modified food
Genetic engineering of animals
Genetic research
Xenotransplants etc
Compassion in World Farming has an introductory animal genetic engineering section. You can download their full report as a pdf:
Farm Animal Genetic Engineering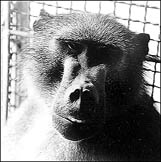 human genetics
main index