INTERNATIONAL NEWS '98
Click here for the latest UK NEWS
EU environment ministers consider Union-wide GMO moratorium
The possibility of introducing a Union-wide moratorium on the sale of crops and seeds containing genetically modified organisms was considered by EU environment ministers at their meeting on 21st December 1998. Senior officials say the issue was discussed at the request of Environment Commissioner Ritt Bjerregaard, following the call by the European Parliament's Environment Committee for a moratorium on all new applications for marketing of GMOs as well as for the Commission to withdraw its proposed legal action against Austria and Luxembourg for banning the use and sale within their territories of the controversial Novartis GM maize.
Australia and New Zealand to label GM food despite U.S. bullying
On 18th December 1998 the Australia New Zealand Food Standards Council (ANZFSC) decided by a majority vote to require labelling of genetically modified food if the manufacturer knows the food contains genetically modified material or even if there is uncertainty about the food's contents. The labelling decision occurred despite American bullying and threats of trade retaliation - see below. Over 90% of Australians support comprehensive labelling.
Legal action starts on genetically engineered rBGH
In the U.S. on December 16th 1998 the Center for Food Safety began legal action to have Monsanto's genetically engineered rBGH (bovine growth hormone) withdrawn from the market on safety grounds. rBGH has been given to 30 per cent of U.S. dairy cows over the last five years and evidence has now emerged that it could contribute to breast and prostate cancer in humans. CFS is accusing the FDA - the Food and Drug Administration - of ignoring this evidence of potential health hazards during the approval process. Senators from the U.S. dairy state of Vermont have also asked for a review of whether the FDA had correctly appraised rBGH safety studies.
The U.S. case has been prompted by data that has emerged in Canada where a major controversy has developed around rBGH's possible approval there. For more on this see below and our Farming News page.
French court upholds suspension of Novartis GM maize decision
France's highest court, the Conseil d'Etat, decided on 11th December 1998 to maintain its prior decision to suspend the French ministerial decree authorising the cultivation of Novartis's genetically modified (GM) maize, and to refer the issue to the European Court of Justice. The decision followed the submission of evidence to the judges that the authorisation had been granted on the basis of an application by Novartis which failed to disclose the presence in the maize of a gene conferring resistance to the antibiotic ampicillin. This meant that that there was no risk assessment done on the antibiotic resistance gene. A legal challenge to the Novartis maize has also been lodged in Germany where evidence of cross-pollination of a neighbouring non-GM crop has also been found.
France already has a moratorium on GM herbicide resistant rape seed and GM sugar beet, which runs until year 2000, and the new court decision will stop the introduction of GM pesticide maize for a similar minimum period.
90% of medical experts polled are concerned about safety of Novartis maize
A poll published in the latest issue of the Newsletter of the International Society of Chemotherapy shows that a clear majority of medical experts working in the field of chemotherapy consider the presence of the antibiotic resistance gene within Novartis genetically modified maize an unacceptable risk. Fifty-seven per cent of 198 experts from 25 different countries said that the risk was unacceptable, while a further 34 per cent wanted more risk assessment to be done before the maize is cleared for full-scale use. A mere two per cent of experts questioned judged the maize to be safe.
Monsanto refuses to halt Terminator tests
Robert Shapiro, the head of biotech giant Monsanto, confirmed following a meeting with company executives on December 10th 1998 that the company will press ahead with developing the Terminator Technology, which renders seeds sterile, in the face pf public opposition. According to The Independent (UK) for 11th December 1998, "Mr Shapiro will be aware that thefirm faces public disapproval of its products and mounting opposition to the Terminator system from farmers in developing countries." See nginís articles section for more on Terminator Technology
Indian farmers destroy Monsanto crop trials
In late November '98 the farmers of the southern Indian state of Karnataka reduced to ashes one of the previously secret field trials of genetically engineered Bt cotton that Monsanto is carrying out in India. This action by Karnataka State Farmers' Association, which represents 10 million farmers, has marked the beginning of a campaign of civil disobedience called 'Operation Cremation Monsanto' which is now spreading all over the country.
Further 'cremations' have occurred in Karnataka and Andhra Pradesh. The Farmers' Association in Andhra Prades alsostormed Monsanto's office in the state capital, Hyderabad, on Wedenesday the 1st of December. As a result of the rising concern among farmers about genetically modified crops, the Andhra Pradesh state government has asked the Mahyco Monsanto corporation to stop all of its field trials there.
The farmer who owned the land where the first trial crop was destroyed, apparently only came to know what kind of plants were growing in his field when the Minister of Agriculture of Karnataka disclosed the location of three sites in Karnataka. According to the farmer's testimony, officials of Mahyco Monsanto went to his farm in July and proposed that he grow, free of charge, a new variety of cotton seeds, which they claimed would give very good results. He says he had no idea it was an experiment involving a genetically engineered 'pest-resistant' crop.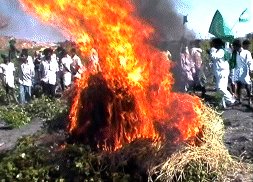 According to Karnataka State Farmers Association:
"The officials of Mahyco Monsanto, who have signed a written declaration admitting their illegal behaviour, went regularly to apply manure and pesticides to the Bt cotton, including heavy doses of insecticides. However, the plants are infested with bollworm (the pest that Bt cotton is supposed to control) and other pests like white fly and red-rot. Despite the heavy use of chemical fertiliser, traces of which still can be observed in the field, the Bt plants grew miserably, less than half the size of the traditional cotton plants in the adjacent fields. No single biosafety measure (e.g. a buffer zone around the GE cotton to reduce biopollution... etc) was undertaken by Monsanto."
A lot of concern has been expressed in India about Monsanto's 'Terminator Technology' - intended to cause seed sterility - that Monsanto is currently trying to patent. Rameshwar Sharma, head of the biotechnology centre at the Indian Agriculture Research Institute in New Delhi has commented, "Even if the terminator gene is not being clandestinely introduced, successive generations of these transgenic crops will be less productive than the first. For sustained levels of high productivity, farmers will have to buy seeds from Monsanto every year." See nginís articles section for more on Terminator Technology
According to an editorial in the Indian newspaper The Statesman: "What makes Monsanto's field trials suspect is the secrecy surrounding [the company] and the contradictory statements made by its spokesmen. Even the Indian Council of Agriculture has no information about the experiments."
Mass demonstration against GE in Phillipines
On Dec. 8th 1998 the Southeast Asia Regional Institute for Community Education and 12 other environmental NGOs organized a mass demonstration outside of Monsanto's corporate offices, near Manila, under the slogans of "Stop the Terminator Seeds" and "Put a Face on the Enemy." The genetic engineering controversy has recently been covered prominently in a number of major Phillipines newspapers, and resolutions have been introduced into the senate to hold hearings and investigations on GE field trials and food imports.
Genetically engineered rBGH scandal rumbles on
A final decision from the Canadian government on approval to Monsanto's rBGH - a genetically engineered "bovine growth hormone" for cattle - is still awaited. Health Canada officials have been exposed in the national media for conspiring with Monsanto to get the drug approved, despite objections by the government's own scientists, who warn that the drug has not been proven safe, and strenuous objections by farmers and consumer groups. Previous reports in the media have claimed Monsanto offered two million dollars to government health officials in exchange for speedy approval of rBGH (more on this).
The Canadian scandal has sparked controversy in the U.S. over how exactly rBGH obtained approval there - see above and Farming News rBGH became legal in the US over 5 years ago - in February, 1994. As the U.S. does not require labelling of milk from herds treated with rBGH, there is concern over how the human health impact of rBGH can be tracked. Individual U.S. states that have sought to introduce milk labelling have been threatened with legal action by Monsanto. The company is also accused of involvement in the suppression of a TV documantary on the issue - see below.
"Revealed: how U.S. bullies nations over genetic food"
According to The Independent on Sunday for the 22nd November 1998, the United States, the world's biggest producer of genetically modified food, has been accused of "bullying" foreign governments to protect the global ambitions of the agrochemical firm Monsanto. Cabinet documents from New Zealand, seen by The Independent on Sunday, show that the US government threatened to pull out of a potential free-trade agreement with New Zealand over its plans for labelling and testing genetically modified food.
In a separate press report in the New Zealand paper The Evening Post, New Zealand's former associate health minister, Neil Kirton, who was in favour of the labelling proposals, says he was visited on the issue twice by an "aggressive" US Ambassador, Josiah Beeman.
"I was struck dumb by the aggression showed by Beeman to my stance, and the bullying tactics he used," said Mr Kirton who was subsequently sacked and replaced by a minister who was willing to go along with the US "no labeling" position. Polls in New Zealand and Australia show that consumers overwhelming support
mandatory labeling.
The Independent's report goes on:
"Opposition MPs in New Zealand have accused the New Zealand government of backing down on GM food under pressure from the US. British MPs say the documents give the first clear evidence of the lengths to which the US will go to defend the American biotechnology industry. They believe that Tony Blair has privately come under similar pressure from President Bill Clinton and the US government. They want him to publicly reveal what discussions the British Government has held with the White House, which has close links with Monsanto, about the growth and sale of GM crops in Britain."
Sacked TV journalists receive award for expose of Monsanto
Florida investigative reporters Jane Akre and Steve Wilson have received a prestigious Ethics Award from
the US Society of Professional Journalists for their investigative reporting on the animal and human health risks, including cancer, created by Monsanto's genetically engineered Bovine Growth Hormone - rBGH. Akre and Wilson were fired by Rupert Murdoch's Fox TV network last year after Monsanto claimed the two had produced a biased report and the journalists refused orders to broadcast instead what they claim were false and misleading stories that were more favourable to the Monsanto product. For more on this
Worldwide ban urged on genetically engineered crops
Delegates from more than 60 countries attending the International Federation of Organic Agriculture Movements (IFOAM) in late November '98 have called on governments and regulatory agencies throughout the world to immediately ban the use of genetic modification in all kinds of agriculture and food production. The call for concerted international global action received overwhelming support from 740 IFOAM member organisations attending an IFOAM congress in Mar del Planta, Argentina, especially those representing small farmers in the less developed nations.
Hungarians take to the streets to protest against GE
On 18th November 1998 Hungarian protesters took to the streets in Budapest and inflated a 6-meter high helium balloon of a corncob with bar-code, in front of the parliament building and across the way from the Ministry of Agriculture. Protesters echoed the European Parliament Environmental Committee's vote of October 12 (see below), demanding a full moratorium on the growth, use, and importation of genetically-modified organisms (plants and animals) in Hungary.
Monsanto denounced as "global terrorist" in Kuala Lumpur
In mid-November '98 at the Asia Pacific People's Assembly in Kuala Lumpur, Dr. Vandana Shiva, the much respected Indian writer on environmental matters, described Monsanto, the biggest player in the biotech industry, as a "global terrorist,"forcing "hazardous food" on countries, using "tremendous pressure and misleading promotional campaigns" to prevent people from choosing "the food they want," and refusing to segregate and label genetically engineered foods and crops.
Monsanto and Novartis receive unexpected 'Pie in the Sky' awards
In San Francisco on October 27, Monsanto Chief Executive Robert Shapiro was hit by a tofu cream pie launched by protesters. According to a press release by "Agent Apple" of the "Anti-Genetix" splinter faction of the Biotic Baking Brigade (BBB): "Monsanto and its subsidiaries have spread chemical death across every continent through products such as PCBs, Agent Orange, Bovine Growth Hormone, Nutrasweet, Equal, and Roundup (the world's biggest selling herbicide). The corporation's toxic Superfund sites poison workers and community members, and its dioxins will continue to cause birth defects and major health problems for generations to come."
Also in California, top University of California officials and a leading figure from Novartis were hit with cream pies by "agents" protesting against a commercial pact between the two. While commercial firms often sponsor university research, the Berkeley-Novartis pact is believed to be the first ever committing the full intellectual output of an entire college to one company. On Nov. 26 activists calling themselves the "California Croppers"destroyed a test plot of Novartis Bt corn on the Berkeley campus.
Rhone-Poulenc increasing investment in genetic engineering
Rhone-Poulenc plans to increase its presence in the biotechnology sector, principally through a strategy of tie-ups with other companies such as the recent one with Dow Chemical Co. Rhone-Poulenc Agro is the world seventh largest biotech company.
Monsanto mega-merger collapses - share price plummets
The biotech giant Monsanto's planned merger with American Home Products Corp which would have produced a massive $96 billion a year corporation has collapsed and Monsanto has been forced to concentrate on surviving as a smaller company. This together with it s need for funds for its many recent acquisitions and the strength of European resistance to genetically modified foods has contributed to a big fall in its share price.
EU rejects GM crop
For the first time, the European Commission's scientific advisers have recommended that a genetically modified plant, a GM potato, should be withheld from the market because they cannot guarantee its safety. The Commission's Scientific Committee on Plants, a group of 15 independent scientists, said the crop should not be licensed for sale in the EU because it was unable to assess the risk of the gene spreading.