ARTICLES
Feeding the world? by Jules Pretty
An important analysis, by the Director of the Centre for Environment and Society at the University of Essex, of the biotech industry's claims to be global benefactors. Includes fascinating examples of the remarkable success of sustainable approaches to improving agriculture in both the developing and developed worlds. Article first published in SPLICE, Vol 4 Issue 6

"Better dead than GM fed?" by GRAIN
There's a food aid crisis. The US says it's impossible to provide GM-free food aid to Southern Africa and that the people there must accept GM grain or starve. But non-GM grain is available in the US - more than 50% of US grain elevators can and do segregate GM and non-GM grains. The US position is one of choice, not necessity, and this article shows how it forms part of a strategy to exploit food aid for commercial gain.
Published in SEEDLING, OCTOBER 2002

QUOTES ON THE FOOD AID CRISIS
The Bush Administration is exploiting famine in Africa in an effort to support America's biotech industry. It's just the latest twist in a long and cynical marketing campaign.

Indian farmers judge GM crops by Hugh Warwick
Seldom are the people the biotech industry claim to be helping actually consulted. This fascinating article describes a project initiated by ActionAid involving a jury of Indian farmers whose very livelihoods depend on what they grow
Published in THE ECOLOGIST, September/October 2000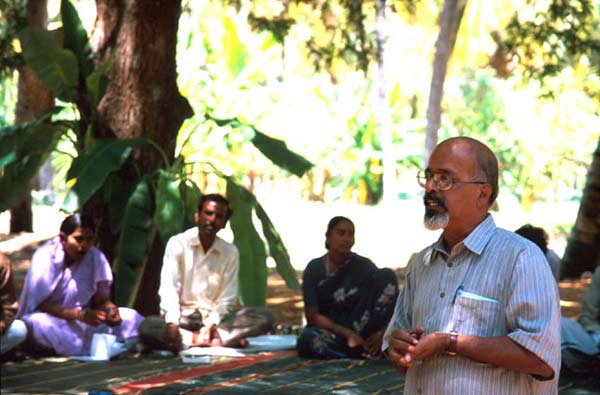 photo from the collection of Hugh Warwick <hedgehog@gn.apc.org>

The Golden Backlash by Hugh Warwick
An incisive article on the cynical use of "golden rice" as a PR fix for an otherwise beleaguered biotech industry. As well as analysing the motivation behind the initiative, the article also considers the biological problems as well as alternative approaches.
Published in SPLICE, March/April 2000

THERE'S NOTHING LIKE A FEEL GOOD BOWL OF GOLDEN RICE by Naomi Klein
An excellent introductory press article on the context in which this GM food is being promoted
Published in Globe and Mail Canada, August 2000

GENETIC ENGINEERING: Can it feed the world? by Dr Sue Mayer
This briefing examines the claims that GM foods are necessary to feed the world.
Published as GeneWatch Briefing Number 3

THE NEXT GENERATION OF GM FOODS: Good for whose health? by Dr Sue Mayer
This briefing examines GM foods said to be nutritionally good for the developing and the developed world.
Published as GeneWatch Briefing Number 10

LINKS TO OTHER ARTICLES
Biotechnology and genetically modified organisms
Christian Aid briefing
Selling Suicide farming, false promises and genetic engineering in developing countries
Christian Aid's comprehensive report
GM could 'impoverish poor farmers'
BBC report on ActionAid's concerns about GM crops
'Feeding or Fooling the World - Can GM really feed the hungry?'
The Five Year Freeze's excellent new report (October 2002) -
download (as a pdf file)
Biotechnology: Not the answer to hunger
Article by Devinder Sharma
Africa's Tragedy - Famine as commerce
Article by Devinder Sharma
Biotechnology: Exploiting the Poor and Hungry
Speech by Devinder Sharma
National Convention on Biotechnology and Hunger, Hyderabad, India
"Green Revolution turns sour"
Devinder Sharma in New Scientist
Bt cotton will kill farmers, financially and literally
Devinder Sharma interviewed on India's GM cotton fiasco
South Africa - Bishops call for moratorium on GM Food
News article
PHILIPPINES: CATHOLIC CHURCH FIGHTS GM CROP
THE GOLDEN RICE HOAX - When Public Relations replaces Science
Article by Dr. Vandana Shiva
UK Dumped 'BSE' cattle feed on Third World
Not GMOs but relevant
Biotech has bamboozled us all
George Monbiot on how studies show traditional farming methods are best for feeding the world
Includes details of a major study by Chinese scientists published in Nature, reporting the results
of one of the biggest agricultural experiments ever conducted.
The potential of organic and biotechnology cropping methods to feed the world
E. Ann Clark, professor of plant agriculture at the University of Guelph in Ontario, presented the following
speech at the annual meeting of the American Society of Agronomy in Charlotte, North Carolina
Promise And Pitfalls Of Using Genetically Modified Crops In Developing Countries
Transcript of an excellent hour long debate featuring Dr. Peter Rosset and Dr. Per Pinstrup-Andersen
Ten reasons why biotechnology will not ensure food security, protect
the environment and reduce poverty in the developing world
Miguel Altieri and Peter Rosset. AgBioForum, 2(3&4), 155-162.
See also Altieri and Rosset's response to McGloughlin
UNDP challenged on Genetic Engineering
Peter Rosset on Genetic Engineering of Food Crops for the Third World:
An Appropriate Response to Poverty, Hunger and Lagging Productivity?
ISAAA in Asia -- Promoting Corporate Profit in the Name of the Poor
GRAIN briefing
Engineering Solutions to Malnutrition
Briefing from GRAIN on moves to genetically engineer pro-vitamin A into rice and other crops.
Looks at limitations of this approach, who controls the technology, and alternative strategies
On using Southern scientists to make Europeans feel guilty for not supporting GE
Joint letter organised by Dr. Tewolde Gebre Egziaber, in protest at Channel Four's Equinox TV programme and a Times article
Getting your science from charlatans
Items on the making of the pro GM-to-feed-the-world Equinox TV science programme
How the NUFFIELD report was fixed
Vested interests on the Nuffield panel + articles on the pro-GM report
Feeding the Hunger Machine
George Monbiot on the Nuffield Council and the most asinine biotechnology report ever written
Lessons from the Green Revolution: Do We Need New Technology to End Hunger?
Article by Peter Rosset, Joseph Collins, and Frances Moore Lappé
Biotechnology not the answer to global hunger
Article by Deborah Toler
Hi-tech crops are bad for the brain
"Miracle" crops, hailed as the answer to global famine, are contributing to widespread brain
impairment in the developing world, a new report concludes. Not GMOs but relevant to debate
Why Genetically Altered Food Won't Conquer Hunger
Peter Rosset, short article in New York Times
GOLDEN RICE? GENETIC ENGINEERING IS NO RESPONSE TO WORLD HUNGER
Greenpeace briefing
Are GMOs essential for effective sustainable agriculture in a hungry world?
Mark Griffiths' article
International Rice Research Institute's first transgenic field test
Briefing from GRAIN in the context of moves to introduce GM rice in Asia
Functional foods: good for Monsanto's health
Briefing from Corporate Watch on 'functional foods', 'golden rice' etc
"Poverty and Globalisation'
Vandana Shiva's Reith lecture with many references to GMO related issues
HUNGRY FOR POWER
Download pdf of UK Food Group report on the impact of TNCs on food security
GE Rice: ASIAN FARMERS HAVE EVERYTHING TO LOSE
Article from Masipag - sustainable agriculture network in the Philippines
Biotech, Poverty, Hunger &  Developing Nations
Worldwatch Institute's testimony to the US Senate
GM crops will NOT solve world hunger say scientists     
Scientists and Physicians for the Responsible Application of Science and Technology
Food? Health? Hope? -- Genetic Engineering and World Hunger
CornerHouse Briefing No 10, October 1998: by Sarah Sexton, Nicholas Hildyard and Larry Lohmann
GREED OR NEED? Genetically modified crops
Panos Media Briefing No 30A (re-issue) February 1999
Bioethics: A Third World Issue
Dr. Vandana Shiva
Clear-Cutting the Last Wilderness: Compromising the genomes of our major crops
Wes Jackson article in The Land Report, a publication of The Land Institute
Whose agenda? The corporate takeover of corn in SE Asia
A report researched by BIOTHAI, GRAIN, MASIPAG and PAN Indonesia
The Biosafety Protocol - controlling trade in GMOs
Christian Aid and World Development Movement briefing
BOOKS
Lappé, F.M., Collins, J., Rosset, P., and Esparza, L. (1998). World hunger: Twelve myths (2nd ed.). New York: Grove Press and Earthscan.
Pretty, J. (1995). Regenerating agriculture. London: Earthscan.

Seeds of Hope (March 2000)
Indian farmers from the southern stae of Karnataka showing the diversity of seed that their arid land can generate.
From bottom left, going clockwise: mung (green gram); red gram; millet; horse gram; sorghum; wheat.
(photo from the collection of Hugh Warwick <hedgehog@gn.apc.org>)
"We strongly object that the image of the poor and hungry from our countries is being used by giant multinational corporations to push a technology that is neither safe, environmentally friendly, nor economically beneficial to us."
Part of a statment by delegates from 22 African countries to the UN Food and Agriculture Organisation
on the subject of GE in food and farming
"Biotechnology and GM crops are taking us down a dangerous road, creating the classic conditions for hunger, poverty and even famine. Ownership and control concentrated in too few hands and a food supply based on too few varieties of crops planted widely are the worst option for food security."
Christian Aid report: "Biotechnology and GMOs"
"I'm against the theory of the multinational corporations who say if you are against hunger you must be for GMO. That's wrong, there is plenty of
natural, normal good food in the world to nourish the double of humanity. There is absolutely no justification to produce genetically modified food except the profit motive and the domination of the multinational corporations."
U.N. human rights envoy and special investigator on the right to food, Jean Ziegler : U.N. food envoy questions safety of gene crops
"...farmers are likely to be weaned from pesticides to be force fed biotech seeds, in other words, taken off one treadmill and set on a new one!"
"The trend towards a quasi-monopolization of funding in agricultural development into a narrow set of technologies is dangerous and irresponsible. Also, too many hopes and expectations are being entrusted in these technologies, to the detriment of more conventional and proven technologies and approaches that have been very successful and which potential lies mostly unused in the developing countries.
It is only too obvious to concerned scientists, farmers and citizens alike that we are about to repeat, step by step, the mistakes of the insecticide era, even before it is behind us. I would even argue that these new miracle technologies are mostly not necessary, let alone desirable, to solve the world's food security problem."
Hans R.Herren, Director General, The International Centre of Insect Physiology and Ecology Nairobi, Kenya
and winner of the 1995 World Food Prize
"Greater concentration of ownership inherent in the new technologies, and laws drawn up to protect them, is set to repeat and worsen one of the great mistakes of the green revolution. More dependence and marginalisation loom for the poorest. The inability to contain genetic material once released into the environment means that even field trials of new crops are tantamount to uncontrolled, irreversible experiments and invasions of the global commons."
Christian Aid - Selling Suicide: farming, false promises and genetic engineering in developing countries
"There are 800 million hungry people in the world; 34,000 children starve to death every day. There are those who consider this a tragedy, and then there are the biotech companies and their countless PR firms, who seem to consider it a flawless hook for product branding. It is an insult of the highest and most grotesque order to turn those who live from day to day into the centerpiece of an elaborate lie. ...the companies who make [GE foods], and the flacks who hawk their falsehoods, offer us a new definition of depravity, a new standard to plunge for in our race to care least, want more, and divest ourselves of all shame."
Michael Manville - Welcome to the Spin Machine