PANTS ON FIRE!

The Pants On Fire award is the prize offered for scientists' services to lying and deception by Professor Bullsh*t, a friendly bloke in a white coat who works in a virtual laboratory on the web.
Education Guardian, July 27, 2001

Pay attention to the mischief makers at NGIN. Say 'Pants' to the manipulators of genes and the media.
'SPLICE', Vol. 8 Issue 1, Jan-Feb 2002
PANTS ON FIRE!
AWARD WINNERS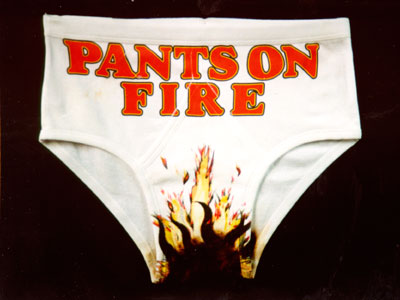 'Hot Pants!' by John 'Blowtorch' Miller
WINNERS OF THE PANTS ON FIRE AWARD
Hot Shots of 2002
a guide to the smelters of 2002's choicest lies, disinformation,
PR chicanery and unfounded abuse
Winners in 2000 and 2001
Sir John Krebs & the Food Standards Agency
The John Innes Centre
Aventis
The Institute of Economic Affairs & ESEF
Prof Philip Stott
Prof T. Michael Wilson
The prize is right
Tom Wakeford picks a deserving winner of the Pants on Fire award
Education Guardian, July 27, 2001
I have just submitted a nomination for a special prize. It is open to academic, government or corporate scientists and has been presented every month for the last couple of years.
The Pants On Fire award is the prize offered for scientists' services to lying and deception by Professor Bullsh*t, a friendly bloke in a white coat who works in a virtual laboratory on the web.
The virtual professor lives on an award-winning website run by the Norfolk Genetic Information Network....