False reports and the smears of men


Article first published in GM FREE, Vol. 1, no. 4
Part of the Network
How Prof CS Prakash and his AgBioWorld campaign
are part of a network of pro-corporate extremists
Article first published in SPLICE, Vol. 7, Issue 6
BAD COMPANY - reporting the business of science
How the Royal Institution, the Royal Society, and the director of the Food Standards Agency, got into bed with
a bunch of scientists-for-sale in order to tell journalists how to report the GM debate
- includes multiple links on corporate deception involving researchers and the media
Royal Society & Big Business
including an article by Dr Tom Wakeford on the corruption of the UK's science institutions
and how it has encouraged uncritical support for GM crops
Pro-GM scientists and the far right
How pro-GM scientists and a right wing clique are working together to promote GM
"Tell me what company thou keepest, and I'll tell thee what thou art"
BIOSPINOLOGY!
Report on Europe's leading plant science centre's pro-GM propaganda
How schools, the media, government and the public are being misled
"Sweet as you are"review by Dr Jeremy Bartlett
The pro-GM play commissioned by the John Innes Centre
DESIGNED FOR PERFORMANCE IN SECONDARY SCHOOLS AROUND THE UK
Watching Dr Pusztai
Report on the OECD conference on GM Food Safety, 28th February - 2nd March 2000
FOOD FIX:G8, OECD, FSA, Krebs and Paterson
How the Food Standards Agency is part of a global GM spin operation
BIOSPINOLOGY AND SUPER-BROCCOLI!
How "super-broccoli" was hyped by the "science commmunicators"
Professor Bullsh*t's guide to the farmscale trials
Can we trust the people behind the UK's GM crop trials?
Top scientists' spin doctoring campaign
Guardian article: Pro-GM scientist "threatened editor" November 1st 1999
The new thought police
Article first published in SPLICE, Vol. 7, issue. 4
Getting your science from charlatans
Items on the making of the pro-GM Equinox TV "science" programme
The Godfather
some reflections on the industrial alignment of UK bio-science
PROFILE OF PROFESSOR DEREK BURKE + CLOSELY LINKED COTERIE OF SCIENTISTS PROMOTING GM
Professor B's [dubious!] LINKS
more on industrial alignment of independent science and public service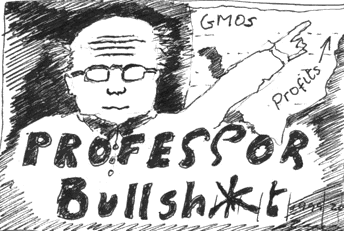 Scientists gagged by public funding body with big links to industry
How the Biotechnology and Biological Sciences Research Council controls publicly funded scientists
WHY I CANNOT REMAIN SILENT
Dr Aarpad Pusztai on his suppressed research and the dubious science driving GM technology
THE GM-TOMATO ECONOMY
20 facts about the ruinous obsession with biobiz
Meacher Meets Scientistsreport by Angela Ryan
Report on a Meeting of Molecular Biologists called by UK Environment Minister, Michael Meacher
with Dr Michael Antoniou and Dr Mae-wan Ho present to counter the usual lines of spin!
How the NUFFIELD report was fixed - click here
Vested interests on the Nuffield panel + articles on the report + some useful links to alternative reports
Organic attack!
Many items on bogus research claims and other attacks from the pro-GM lobby

SEE PANTS ON FIRE FOR AWARDS FOR LIES, FIXES AND SCIENCE SPIN
Professor Bullsh*t's favourite quotes: click here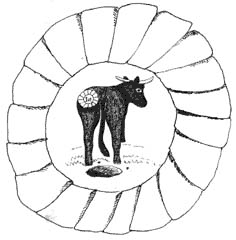 "Bullsh*t at its finest!"